I. Project Qualification
I want a unique award, specific to my purpose.

I need 50 or more small or medium sized products or 1 to 10 larger products.

This is an ongoing program and will be awarded annually or more frequently.

I want a copyrighted or exclusive design.

I want to create custom artwork to incorporate into the product design.

I want to use more than 2 decoration techniques or product materials.

I have a 6-8 week lead time (expedited shipping is available to reduce lead time).
II. Project Conception
During this phase of the design process, we will work with you to develop ideas based on the award purpose. Factors contributing to the design include:
Purpose (customer or supplier appreciation, sales awards, employee awards)
Event type (sales meeting, charity function)
Event theme (global, teamwork, success)
Program Theme (anniversary, financial milestone)
Product shape (star, diamond, pyramid)
Product size (height, width,footprint)
Product material (optic crystal, lead crystal, glass, marble, stone, acrylic
Color (clear, black, red, cobalt blue,& more)
Multiple decoration types and locations (deep etch, 3D, color fill, screen print, digital print)
Budget and In-hands date.
III. Technical Design Drawings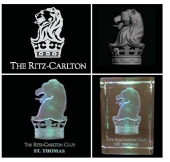 Data from the prior phase will be used to construct a technical drawing of the product. This drawing will be reviewed with you to ensure design accuracy. Changes will be made as required. While technical drawings are included to ensure details of the conceptual design, we have designers on staff to assist in conceptual designs. Conceptual design services may incur a charge.
IV. Product Proofs
Once the technical design drawing is approved, we proceed with a PDF proof for the artwork. Following approval of the PDF proof a photo proof of the etched product will be provided. Upon approval of the photo the pre-production spec sample will be shipped to you or your client for final approval. If product revisions are required, additional charges may be incurred.
V. Finished Product

NOTE: Designs shown are copyrighted © designs that may not be reproduced.
Customer Testimonial
"Before working with Crystal Images I was struggling with finding unique awards that had visual impact. As I started looking for a solution I was concerned about the quality and production time needed to produce the awards. Crystal Images showed me how they could provide dynamic awards without worrying about missing an event date. I feel assured about Crystal Images because they have proven they will do whatever it takes to meet an event, even air freighting in a replacement award when the client broke it two days before the event. As a result of working with them I now have a partner who cares as much as I do making my clients events memorable."
---
The Project - 25,600 sets of 4 custom glasses per set - delivered in 90 days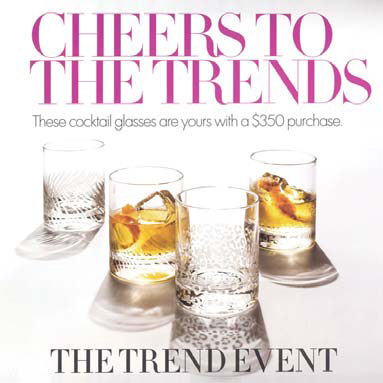 I. Project Tasks
Pre-production sample made
Sample box shipped to China
Artwork emailed to China
Wire Transfer Deposit Received
Wire Transfer Deposit to China
Preproduction Sample Shipped from Shanghai
Preproduction Sample Delivered
Pre-production sample approved
Production begins in China
Order ships to port in Shanghai
Order arrives in Longview, Texas

II. PRODUCT SPECIFICATIONS
Glass Details
Double Old-Fashioned Glass

Material can be glass or crystal

Glasses are being made according to the specs of the zebra glass

3 3/8" diameter top and bottom of glass (85.725 mm)

4"H to 4/1/4"H (101.60 - 107.95 mm)

13.5 to 14 ounces (399.24 ml to 414.03)

15.662 ounces in weight (444 grams)

11" circumference (279.40 mm)

There will be sets of 4 glasses with 2 different artwork designs per set

There may be slight variations in the glass size to the specs above
Artwork Details
Artwork will wrap around glass

Artwork dimensions have been sized for 11"W x 1 3/4"H (279.40 mm x 44.450 mm)

Start imprint as close to bottom of glass as possible and continue to half way to the top of the glass

Assumed art starts 1/4" (6.3500 mm) from glass bottom but should be adjusted

There are 2 different artwork designs

Artwork wrap should have minimal gap (space between beginning of horizontal artwork and end of horizontal artwork)

Artwork should be adjusted to match the specifications listed above
Box Details
Silver box with silver foil stamp of logo

Logo will be same size as logo on box sample

Flexible on box design, but must be of similar quality as box sample

They do not want the "croc" design

If same box design is used, logo will be on same location as sample

If different box design is used, logo placement must be determine

Box size must be sized to fit 4 glasses specified above

Box size of box for glasses specified above is 7"W x 7"D x 4"H - 4 1/4"H
(177.80 mm x 177.80mm x 101.60 – 107.95 mm)
III. Proof Concepts and Final Product - Wrap seams noted